ORFEUS - Users
Some figures :
ORFEUS is in real and daily production. Consignment and wagon note data are exchanged between the information systems of User railway undertakings on a regular base, using the central application (CDS). It runs in computer centre in Aubervilliers with hot backup centre in Paris, both provided by LUSIS. Stability of both central system and national applications is excellent thanks to service management and redundancy of all components.
Huge number of consignment data is exchanged between the ORFEUS Users, in example, some average volumes:
in total in average about 110 000 messages with consignment notes are sent by the Users to ORFEUS each month,
in the opposite direction, similar (but bigger) amount of messages with consignment notes are sent by ORFEUS to the Users
ORFEUS processes more than about 2,7 million messages yearly.

Actual Users :
The ORFEUS Users use the consignment data for incoming traffic procedures. The following railway companies take part in the production now:
Captrain Deutschland CargoWest GmbH (3195, Germany)
ČD Cargo, a.s. (2154, Czechia)
CFL Cargo S.A. (2182, Luxembourg)
DB Cargo AG (2180, Germany)
DB Cargo Italia Srl (2380, Italy)
DB Cargo Nederland N.V. (2184, Netherlands)
DB Cargo Polska Spółka Akcyjna (3100, Poland)
DB Cargo Scandinavia A/S (2186, Denmark)
Euro Cargo Rail SA (3187, France)
Transfesa ( (0012, Spain)
Green Cargo AB (2174, Sweden)
HŽ Cargo d.o.o.  (2178, Croatia) - only receive 
LINEAS (2188, Belgium)
Mercitalia Rail (2183, Italy)
Rail Cargo Austria (2181, Austria)
RENFE MERCANCÍAS, S.A (2171, Spain)
SBB CFF FFS Cargo (2185, Switzerland)
SNCF MOBILITES - Fret (2187, France)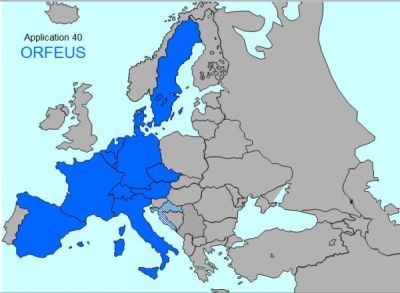 Countries where local "national" freight railway undertaking sends messages through ORFEUS central system are shown on the map below with blue colour.
Note: Some DB Cargo Group entities (DB Cargo Italia Srl, DB Cargo Polska SA, Euro Cargo Rail SA) exchange consignment data via ORFEUS too through system of DB Cargo AG. For other DB Cargo Group entities ( DB Cargo Bulgaria, Deutsche Bahn Cargo Romania) DB Cargo AG is sending ORFEUS messages as Contractual Carrier (CC) if if one of the entities is Shipping Carrier DB Cargo AG is CC.
Electronic Consignment Note:
DBCDE and SNCF Fret use the ECN format and flow for most of bilateral transports since 2014. They run paperless also transports from France transit via Germany and vice versa, with print of consignment orders before leave of the "ECN area" (it means mixed ECN and PCN scenario). Also MRI and SNCF use the ECN and ECTD flows in production from mid 2015. In October 2017, also CD Cargo joined ECN production with DBCDE (for empty wagons as first step).