ISR - New functions
Import of Consignment Information :
ISR receives a subset of the Consignment data sent by the railway undertakings to ORFEUS
Data are used to enrich the movement information with the consignment data (transport description)
Transport descriptions allow to match movement events belonging to one transport together.
Another method for transport description delivery is the WSM message with type NoteCreated.
Queries and Transport Plans :
Movement information, received from the members information system allows to build value added functionalities
New ISR production website (open for Users only) enables for queries on wagons with many different query parameters (wagon numbers, consignment numbers, countries/stations of origin and destination, dates etc.).
It is also possible to make query for train numbers (many wagon movement information include train number).
After a transport has finished, a part of the transport description as well as the first and last event is used to create an Experienced Transport Plan (ETP).
So for new transports running under the same conditions (same origin, destination, and departure weekday) the expected last event as well as any deviations can be displayed.
ISR is also the main information source for the Xrail application, which calculates ELTA's based on trip plans for specific relations.
Xrail can also send "Estimated Latest Time of arrival" to ISR to be forwarded to relevant railway undertakings.
Wagon Km performance Processing :
"Mileage" information (km performance) is very useful for an efficient wagon and fleet management and maintenance,
Some (few) ISR railway undertakings calculate "mileage" with their own tool and send results to ISR.
For others, ISR calculates estimated distance ran by the wagon based on:

Movement events (wagon has reached, left or passed a location, at time) and distance sources:

Railway production distance tables, provided by members,
Road distances using Google Open Street Map,

Consignment note information using the DIUM distance tables
Distance is calculated for each movement (run from previous event) separately
Always the best (most exact) calculation method available is used

ISR uses and maintains set of reference tables (production stations, DIUM stations, border crossing points, handover points etc.)
ISR can send the calculation results to interested members for their wagons using the WSM message (version 5 is required).
There is automatic provision of km per wagon per day performance for the UIP's RSRD2 wagon keepers database.
Output can be either specific type of the Wagon Status Message or Wagon Performance Message (WPM).
The calculation tool is improved step by step to provide results close to reality as much as possible.
Wagon monitoring during train run - RTIS
Railway Undertakings (RUs) provide wagon movement events for ISR, but these events happen mostly in stations where the wagon start or terminate the transport or is taken- or handed-over from/to other partners.
That means that after departure of a wagon in a long distance train there could be a long period without any information.
To better the situation for wagon monitoring, RailData has realised RTIS - Running Train Information System.
RTIS provides an advanced wagon tracking based on the real time position and deviation from the timetable of the related border crossing trains while running.
This feature has been realised thanks to a specific integration between the Train Information System (TIS) run by Rail Net Europe (RNE) and the tracking and consignment information provided by the participating RUs within RailData systems.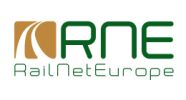 Besides improved wagon movement tracking, RTIS also provides train run information available on the ISR web site (user interface example see below).
Between RNE and RailData a TAF TSI compliant message is exchanged and routed via the RNE Common Interface (CI).
RailData has gained a lot of experience being a test partner for this standard TAF TSI communication software and now offers to the RUs a conversion service to allow them immediately a data exchange on TAF TSI level.